Discover more from Ajalaress
Helping YOU travel the WORLD to create lifelong MEMORIES
Leap of Faith!!!
Hey Travel Lover😉
I am brave, I am adventurous, I am fun-loving, these were the affirmations I made before I encountered the "Leap of Faith" water slide in Dubai in 2012. Did my affirmations change or become reinforced? Read on....
I was determined to pack in as much touristy activities as I could during my short visit to Dubai and when I read of the water slide at Atlantis, I knew it was a "must visit". Where this gets interesting is I'm not a fan of water sports but hey I was determined to have fun and have it to the fullest.
On the day scheduled for Atlantis and Adventure, I left my hotel bright and early so I have a good start and achieve my aim pack in as much activities as possible. At first, I was apprehensive to begin the water sports, after some time of people watching, I remembered my affirmations, I am brave, I am adventurous, I am fun-loving, I got my water floater and began my adventure.
From levels one to five, I and my floater were fearless, fierce and the epitome of fun😃. Then, I bounced to level six, I hesitated when I saw the name, Leap of Faith, but again, I remembered I am brave, I am adventurous, I am fun-loving. Hugging my floater, I kept on moving on the queue. Soon enough, it was my turn, then I heard something very funny, I was told, "you can not take the floater on this slide"😲😳
At that point, I did a critical analysis of the slide, it was an almost vertical drop from a height approximately 9 storeys tall, I came on the trip alone, haaaa!!! I immediately did a "thanks but no thanks" and left the queue. Five levels out of six, is a pass mark still 😀
I look forward to heading back to Dubai to complete my Leap of Faith challenge. Have you been to Dubai? Is Dubai on your bucket list? Would you attempt Leap of Faith?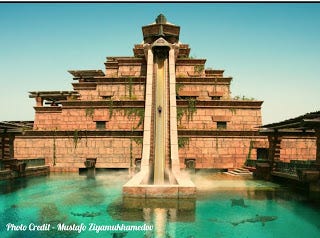 Till next time Travel Lover!