Discover more from Ajalaress
Helping YOU travel the WORLD to create lifelong MEMORIES
Hey Travel Lover!
Do you know every single decision you make when you travel is an important one? So plan, plan and plan again.
I remember my first trip to Paris the city of love and light in 2014, I had told myself while planning that I will take the bus from the airport to my hotel neighborhood, then take a cab from the bus stop to my hotel. Such an economic plan to save Euros, right?
Now, I forgot three key things
· Language Barrier
· Data on my phone
· Map Interpretation

The first part of my plan was executed smoothly and impeccably. After collecting my luggage at the airport, I went to the bus stand, got a ticket and hopped on the bus. Such a Comfortable bus, I gave myself an invisible pat on the back for this choice. Then, I got to my stop. It was still early hours of the morning, about 6am "ish". I alighted with my giant red suitcase and decided to execute the next part of my plan, take a cab to the hotel.
I saw a taxi stand opposite the bus stop, my grin was so big it could light a 1,000 watt bulb. I walked over and said "bonjour" – French word learnt in high school - quickly followed with the words "I need a cab to this destination", showed my printed hotel name. The cab driver looked at the address, shook his head and said "NO, I can't take you there". The hotel was close by he explained, so there was no need to be driven there, SURPRISE!!!
I looked around, I was at a giant T junction, which road was I to take? Of course with language barrier, it wasn't easy to get help. Most people I asked told me they didn't understand English. Some actually used the map on their phones to show me the direction, but since I wasn't with the phone, I couldn't decipher if I was going in the right direction or not. The streets of Paris had maps in strategic locations as well, but, I didn't know how to read the maps.
So my giant red suitcase and I started our journey on the streets of Paris. At a point I knew I was helplessly lost, it was still early and only a few people were out. So much for saving some Euros!!! After about an hour of "strolling", I decided to plead with a cab, any cab, to please take me to my hotel. The first cab I asked said he wasn't going, as I was saying "I will double the payment", he said "I can't cause your hotel is just ahead", then he pointed….Relief! I thanked him and made my way slowly to the hotel. I later realized that at the T Junction, instead of taking the road to the right, I took the road to the left….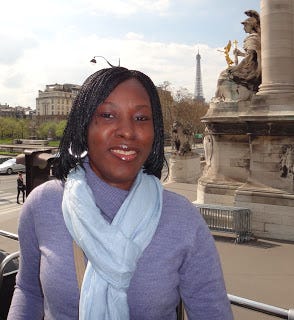 This isn't to scare you about travelling, travelling is fun, travelling is an adventure, travelling is educative. It is to make you realize the importance of planning. I wish I printed a detailed description to my hotel from the bus stop before leaving Nigeria, I wish I got a sim card at the airport, I wish I wish I wish…..
Knowing what you know now, would you take the bus option or the cab option?
Au revoir Travel Lover!