Discover more from Ajalaress
Helping YOU travel the WORLD to create lifelong MEMORIES
Roundabout Turn!!!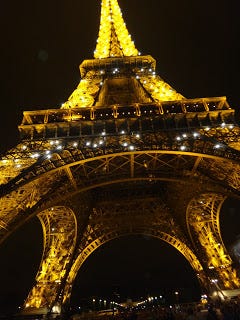 Hey Travel Lover!
What came to your mind when you saw the caption – If it confused you as it confused me, welcome to my world.
Did you catch my recent write up on Tradeoff - Bus V Cab? You should check it here if you missed it. This is another adventure from that same Paris trip.
I wanted to see Paris at night on a tour bus. I was eager and excited as I anticipated seeing the lights, the sights, the sounds and the sheer beauty of the city at night. Before leaving my hotel, I asked the receptionist to assist me with getting a cab and she said, "It is pretty straightforward to get to the tour company, all you need to do is take the train as there will be lots of traffic now anyway" Then she handed me a map.
I thought since I had a map, I would navigate easily, so instead of the cab option (again), I opted for the train. This time, I arrived at the train station of my destination with little drama. Whoop Whoop...Now, this is where it gets interesting, I asked a station attendant about directions to the tour company and he said "come out from the underground station, then roundabout turn", I asked for more clarity and he told me again "roundabout turn". The short journey from the underground terminal to the surface felt like eternity as I wondered for the umpteenth time what roundabout turn meant.
Anyway, now on the surface, I got walking...and kept walking... After an overdose of "sightseeing by chance", I decided enough was enough, I will never find this tour company - I will use the day tour instead -
On my way back to the train station, I saw a sight that was hilarious and wistful, IT WAS THE NIGHT TOUR....departing....It turned out that Roundabout turn actually meant a left turn from the train station. It was so close….
I went to the office and asked if there was another for the night, alas, I was told that was the last till the next day. I went back to my hotel, happy to have learnt a new funny word, and looking forward to the next day.
When you travel, I'm sure you take a minute, some minutes, some hours to see the new place. How do you avoid getting lost in "'Roundabout Turns"? Have you had a similar experience? Share with us in the comments section.
Alright Travel Lover, it's a left turn into my bedroom right now, to kick start a well-deserved restful weekend
I'll be back soon with more Travel Tales, Tips and Tricks
Lost and Found
Ajalaress